Metalchem
Paprika Korps



Release date: 25.06.2010
Alive-Order.No. 720725 | amazon | iTunes

Cover | Track List | Info | Interview | Photos | Live | Links



Cover


download cover 1000x1000px


Track List

1. Navigator 3:50
2. Czarno - Biały 2:44
3. Follow follow 4:11
4. She 2:22
5. Miasto 3:19
6. Tokarz 3:14
7. The Concrete 2:06
8. The Concrete Dub 2:35
9. Plain 3:07
10. Kroki 4:05
11. Kolejny Krok 1:22
12. You Should Be Sleeping Now 2:19
13. One Minute 2:14
14. Follow Follow (Dubbist Remix) 3:46

playing time: 41:14



Info

New album of Paprika Korps is called "Metalchem". It's name refers to historical district of Opole, where all of the songs were created and where specific atmosphere influenced musicians to create new chapter of "heavy reggae".

Album contains 14 songs of unique Paprika Korps "heavy-reggae" style, which is combining caribbean groove, with dub elements, alternative rock guitars, psychedelic sounds and even new wave.

Band's guitarist Lukasz Rusinek about the album: "Through the past two years the micro climate of Metalchem abandoned office depot has been slowly distilling with our little help into a form of a record. The result of our weird self motivating, and demotivateing techniques sedimented on a new LP, where the four by four rhythm and pulsation melts sometimes into less condensed forms. We did our best to provide the genuine sound we were able to generate to illustrate all the feelings and emotions that have been growing in us during the countless rehearsals, gigs, and tours."



Interview

Piotr Maślanka, singer and keyboard player of Paprika Korps, on mystic places like abandoned industrial side as inspiration for their music, on constant living on tour and Europe's diversity that they had the chance to experience by touring. Plus you can learn many about the band's connection to very vital polish reggae and dancehall scene as well as about the life besides Paprika Korps

>>> Interview Paprika Korps (87.2 KB)



Photos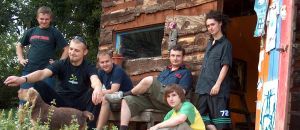 download high res 2272x1712px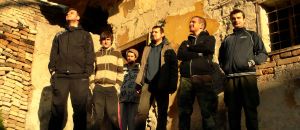 download high res 4224x2376px

Live

08.07.2011 Dresden, Groovestation
09.07.2011 Sacka, Bulliklinik "Campers HiFi 2011"



Links

>>> Band-Website
>>> MySpace
>>> About the artist